Welcome to Soul Zone Network! 
We are excited to present to you a collection of beautiful podcasts in collaboration with beautiful souls! We are a group of like-minded individuals coming together to inspire, uplift and create content that helps you on your journey to living your best life! Our podcasts topics are holistic in nature and range from self-help to spiritual and enlightening subject as well as alternative health! If you are enjoying our podcasts please do seek us out on Itunes or Google Play music and leave us some feedback. Each podcast you see here is also available in Itunes, Google Play, and many others.
Let's get to exploring, shall we!
Soul Keys Podcast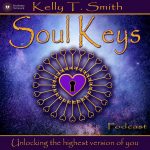 Join Kelly T. Smith for a soulful podcast that takes you on a journey deep within to unlock the highest version of you. Tune in for topics like law of attraction, meditation, self-help, intuition development, motivation, inspiration, and energy healing. Learn to unleash your hidden potential and access your inner guidance like never before.

The Butterfly Kinection Podcast
Join Molly and Sara each week as they take you on a journey to self-discovery. Listen as they share life experiences and intuitive guidance that have allowed them to spiritually awaken. Spark a rebirth of movement in your life by using their self-help tools, including guided journaling exercises, meditations, and classes. Speak directly to your soul to reveal your most authentic self and unlock your highest potential. Welcome to the Butterfly Kinection, where the kinetics of your soul will give you wings to fly. Check them out @ www.thebutterflykinection.com