I am super excited to present to you, the online group healing workshop, Live!
This will be recorded, so if you cannot make it live, you can also purchase it now, and get the recorded link within 24 hours after the class is over. The recording of the class works the same and is just as powerful.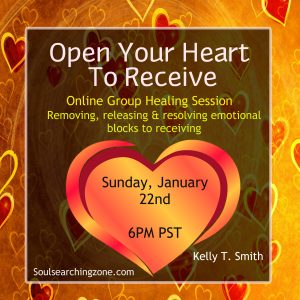 Many people myself included are more comfortable with giving than we are receiving. This type of belief, is actually the culprit behind the reason why you cannot attract abundance into your life. There is the underlying feeling that self sacrifice is noble. So, we become self sacrificing in all areas of our life. We  give up, everything to everyone, we push down our desires and our true feelings, we cut ourselves off from what we truly want out of life, out of fear that we are selfish if we want too much. When our self sacrificing becomes so dominant that we are suffering because of it, it is time to look at the truth. Is it really noble to suffer? Is it really noble to go without? Is it really noble to deny what you truly want out of life? The truth is you are probably in totally and complete conflict with yourself. One half of you is trying to convince you that going without is noble, and the other half of you is buried within you, screaming for you to pay attention. The longer this part of you goes without being heard, the more your light becomes dimmed. You will feel tired, low on energy and also lose your passion if you let this pattern continue. You deserve more.
9 ways you don't allow yourself to receive
We cap out at a certain amount of money every month and never allow in more
We don't feel worthy to receive money for our passions & services!
We don't allow ourselves to ask for a raise, or raise our prices on our services.
We refuse help when other people ask us if we need it
We pretend like we have it all together, when we are about to fall apart
We give up something we need to please someone else
We go without something we truly desire, because we feel guilty wanting it
We have a hard time asking for help
We don't allow ourselves to truly imagine having what we desire
If you have studied the law of attraction, and still find it challenging to allow yourself to even want or desire more in life, this could be the missing piece of the puzzle for you.
So how do we change this?
That is exactly what the focus healing for Sunday January 22nd, Live Group Healing session is all about!  You can purchase it through the button below or click here to learn more.
Group Online Healing Session- Open Your Heart To Receive!
This is a 90 minute group healing session for opening your heart to receive. Group healing sessions are set up very similar to a one one one session. You will experience a variety of healing modalities as well as intuitive guidance, coaching tools and hypnotherapy to help you release limited beliefs to receiving abundance! We will look at all of the ways that you keep yourself from receiving, and purposely and with great intent release those patterns! If you have been wanting to make peace with money, release lower energies related to lack consciousness, this is the class for you! ! All sessions done online webinar. You can purchase the session and receive the recording if you cannot make the live event!
$35.00