Energy Theme- Changing directions, having faith and rising above
This weeks oracle card reading, is a week of clarity in your life's direction. You may feel as if things are being stirred up or rearranged and you are correct. Have faith and listen to the guidance and direction of your soul. This week you will continue to ask the right questions about what you truly desire, what you really want and where you are really headed.
This week we got the rise above card, in the limited belief position. We are getting that extra push to reach for a new perspective with our challenges this week. If you feel challenged by a person or a situation, ask yourself what this situation or person is trying to teach you. Look for the higher awareness and do not allow yourself to be easily triggered by others this week. When you reach for a higher perspective you are not allowing lower energies or negative energies to pull you down. It is important to reach for the highest and best version of yourself this week as you will be presented with new and exciting opportunities!
1st Card Energy of the week- Starry Night



Key Phrase- Get clear about where you are headed and what you really want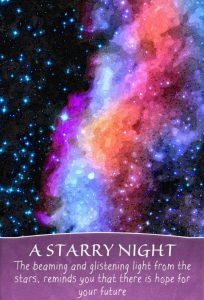 [ A STARRY NIGHT ]
The beaming and glistening light from the stars, reminds you that there is hope for your future.
From far away, way up high above you, in the darkness of the night is a glistening light of hope. The Star. The Star is here to guide and steer you in the right direction. It is there to bring you hope for your future. What you want may not be here as of yet, but it can and will be, if you are willing to go the distance. The successful outcome, that you desire, is assured when the starry night shows up as a beacon of light in your reading. It reminds you that success does not happen overnight. Success actually happens through a series of events that lead to the successful outcome. These events make the successful outcome possible.
There is no such thing as failure, because what you think is failure is actually the knowledge and understanding that you need to learn to get you to where you are headed. No event or experience in your life is separate from another. These events work together to take you to the destination of your choosing. Continue to watch for the glistening Star in the darkness of the night and, remember that your desired outcome is inevitable if you refuse to give up. Perseverance is what is required from you now. There will always be hope for your future as long as you choose to follow the guiding light of the Star.
The Limited Belief Card- Rise above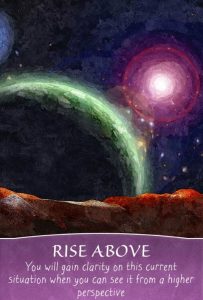 [ RISE ABOVE ]
You will gain clarity on this current situation when you can see it from a higher perspective.
Right now you may be stuck in a mindset that is blocking you from seeing the bigger picture. Your Angels and Guides come to you today to remind you to rise above your current situation. Whatever you are going through, there is a higher perspective waiting to be shown to you. Nothing is lost, you are not alone, and this situation can be resolved. Imagine that you are floating above, the higher your go, the more you will see.
Begin to temporarily detach from this current situation and look at it from an outsider perspective. What do you see? What do you feel? What advice, if any, would you give the people who are going through this? Now imagine that you are going up even higher. Imagine that from this level you can see everything, even things you could not see before. Notice how things start to look and feel different from this level of mindset. Right now, you are too close to this situation to be able to see it clearly. It is time for you to give yourself some space to put things into perspective. Your soul is yearning for a career aligned with passion and purpose.
Now is the time for soul searching. Your soul is yearning to express itself through your career. You are being asked to let go of limited beliefs that say you cannot do what you love and still earn a living. This limited way of thinking is keeping you from moving forward into a career in alignment with your soul's expression. This card comes to you today to tell you that it is possible to do what you love for a living and thrive. Let go of old conditioning that says otherwise. It is time for you to dream again. Spend time thinking about what makes you happy and ask your guides and angels for assistance with a new career. If you focus on the pure joy of doing what you love, the money will be a result of that joy. Let go of all beliefs that tell you it is not possible. It is possible, and you are getting ready to discover this very soon. Dream big and have faith! You are getting ready to experience a career transition that is in alignment with your soul.
Potential- Golden Stars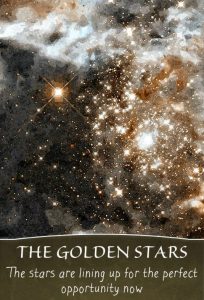 [ THE GOLDEN STARS ]
The stars are lining up for the perfect opportunity now.
The opportunity that you have been waiting for has finally arrived. If you are asking: "Is this the one, will this work out for me, should I move forward with this or will this happen?" The answer is definitely yes. This opportunity has been written in the stars a long time ago. In other words this is your destiny. Is was never a matter of if this was going to happen. It was always a matter of when this is going to happen.
If you have not received the news of your golden opportunity just yet, this is your sign that it is on its way now! Have patience and continue to persevere. The stars are lining up for you, and the good news it's on its way to you very soon. This card could also represent good fortune, prosperity and abundance.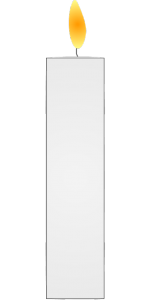 Affirmative Prayer for this weeks energy-
Light a candle, put your hands in prayer position and read this prayer out loud with the feeling that it is done!
Infinite Intelligence (God, Universe) , thank you for assisting me with finding clarity and direction. Thank you for helping me rise above any and all difficult situations and handle them with Grace. Thank you for bringing forward new opportunities and for opening new doors that align with the highest version of me.
And so it is………..
Thank you, Thank you, Thank you
Your Intuitive Life Coaching Tip for the week! 
Get out your journal and make a list of all of the things in your life that is not working. What do you keep doing, what direction do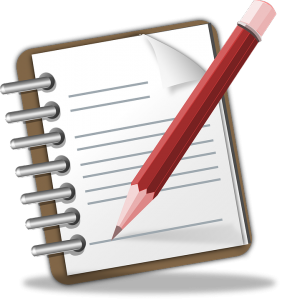 you continue to take that feels heavy? Ask yourself: Is this really what I want? Where am I headed and why? Continue to journal about what direction you are headed in. Ask for clarity and direction this week as you have faith and move toward your dreams.
Until Next Week
Kelly T. Smith